Benefits of Travel Insurance
With your passport in hand, flights booked, and hotel reservations confirmed, it may feel like you've taken care of all your arrangements. But what would happen if you got sick or injured while you are on are abroad? What would you do if your baggage was lost, or your wallet stolen? What if you had a family emergency that came up that prevented you rom going on a trip?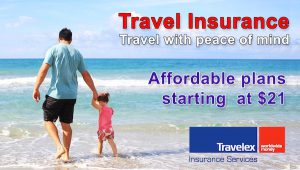 The best way to insure your carefully made plans is to purchase travel insurance.
Events that Trip Insurance Covers:
You need to cancel your trip
You miss your connection
Your flight is canceled
A hurricane, or other natural disaster damages your destination
You get sick or injured on your trip
Your baggage is lost or delayed
Your passport is lost
What to Look for in a Travel Insurance Plan:
Medical Benefits:

Covers medical costs incurred while traveling. Evacuation insurance which covers you if you need to be transported to a country with better access to medical facilities.

Trip Cancellation and Interruption Coverage:

Reimburses you for the cost of your tickets.

Financial Compensation:

Compensates you in case your bags get lost or stolen.

24-7 Helpline:

Provides a toll-free number you can call from any country to get assistance. Multi-lingual agents who can help with issues like finding local medical care, locating luggage, or re-booking flights.
Get Protection from Travelex Insurance Services
There are lots of plans and travel insurance companies from whome you may want to purchase travel protection.

Passport Visas Express recommends Travelex. A Travelex travel protection plan will help to protect against unforeseen events that could impact your travel plans. The Travel Select plan provides coverage for Trip Cancellation, Trip Interruption, Trip Delay, Baggage Loss and Delay, Emergency Medical Expenses and Evacuation and more.
If you would like to purchase a Travelex plan, please visit Travelex's website by clicking here or contact Travelex's Customer Solutions Team at 1-800-228-8782 and reference location number 46-0003 for an individual plan quote.
Please Note: To be eligible for the waiver of the pre-existing medical condition exclusion, the Travel Select protection plan must be purchased within 21 days of the initial trip deposit. For a summary of plan details on benefits, coverages, limitations and exclusions, please refer to the applicable Description of Coverage. Travel Insurance is underwritten by Transamerica Casualty Insurance Company, Columbus, Ohio; NAIC #10952. 1744780